By Jessica Santos
Today's current climate has changed a lot of our plans for 2020 and beyond. With the exception of essential workers, many employers and businesses have chosen to send their workforce home in an effort to slow the spread of COVID-19 and protect their employees and their loved ones from the disease. Many others have sent some or all of their workforce back to work in areas where shelter in place orders are gradually easing.
Employers must find a way during this time to keep employees safe and healthy to the best of their ability while also easing any anxieties they and customers may feel at this time. Regardless of where your employees are located, it's important to make important precautions to encourage a healthy workplace and keep employees safe.
Employees working at home
Some might falsely think that there isn't much employers can do to support employee safety while they work from home. Although you can't control what your employees do at home, you can still provide resources and opportunities to de-stress and relax.
-Breaks and end times: Keeping a healthy work-life balance is tough when you're working remotely, especially if this is the first time your team is working from home. Encourage your team to take breaks when needed and not to feel any pressure to work more than they normally would in an office.
-Online wellness resources: In-person activities like yoga and meditation might not be in the cards right now, but providing your employees access to free or affordable wellness resources could be a way to get them connected programs that could help them through this tough time. Mindfulness apps, guided meditation and online retreats are a few things that can support employee well-being.
-Opportunities to connect with coworkers: Remote work combined with shelter-in-place (or similar) orders could drive employees to feel disengaged and disconnected. Plan only events like virtual happy hours, coffee chats or even allow employees to plan casual catch-up chats on the clock to ease the feeling of disconnection.
Employees working on site
Essential workers and other employees face a drastically different landscape while they're out in the open working with other employees and potentially working with customers. There are many things employers should do to keep a safe working environment for all.
-Temperature checks: Some businesses are opting to check temperatures as a way to detect someone who might have COVID-19. However, you should ensure that employee confidentiality is kept and keep in mind that those without high temperatures can still carry the disease.
-Regular rigorous cleaning and sanitization: Ensure the workspace is properly sanitized as often as possible and keep both your employees and customers informed of the sanitation procedures you're taking.
-Cleaning supplies: Keep proper cleaning supplies available for employees.
-Signage: Post signage around the area to remind employees and customers to wash their hands frequently, to cover their coughs and recommendations from the CDC or other entities.
-Staggered work schedules: Have less people working at one time if possible. Start some people in the morning and some in the afternoon so that less people are on site.
-Phased return to work: If possible, consider sending employees back to work in phases dependent on who is most essential to work on site. For example, maintenance workers or other employees who can't work from home should be considered among the first to return to work. This way, you can phase in employees and allow work to continue without having too many people in-house.
-Teleworking opportunities: If possible, allow employees the opportunity to work remotely to limit the amount of people in the vicinity without completely limiting productivity.
-Social distancing: This will look different depending on the type of business you run. Traditional office spaces should consider physically distancing desks and cubicles while also limiting communal areas. Retail and other storefronts should consider things like barriers between employees and customers, taped off marks on the ground to ensure social distancing in lines and temperature checks.
All employees
There are a handful of ways you can support all employees that aren't specific to where they're located. Things like sick leave and general time off is applicable for everyone.
-Sick leave: Allowing employees the time off to recover from any illness, not just COVID-19, is important for everyone's health. Time off the rest can help your employee recover faster and protects other employees and customers from potentially catching whatever they might have caught.
-Time off: General time off to recuperate from the stress of today's world can help keep your employees mind clear and help them manage stress.
-Open communication: This unprecedented time is tough for everyone and may open up special circumstances for those on your team. Encourage everyone to keep an open line of communication and reassure them that you're there to support them as best you can.
You can also refer to these guides to see how federal and global organizations recommend you plan and respond to COVID-19:
Center for Disease Control (CDC)
World Health Organization (WHO)
Occupational Safety and Health Administration (OSHA)
JW Surety Bonds has a checklist below of the steps you should take when an employee is sick. Ensuring an employee's rights to privacy and safety are important to keep in mind when deciding how to best support your employee while also ensuring your business is operating safely and efficiently while they are out. Take a look at their list below to see what steps you should consider when an employee falls ill.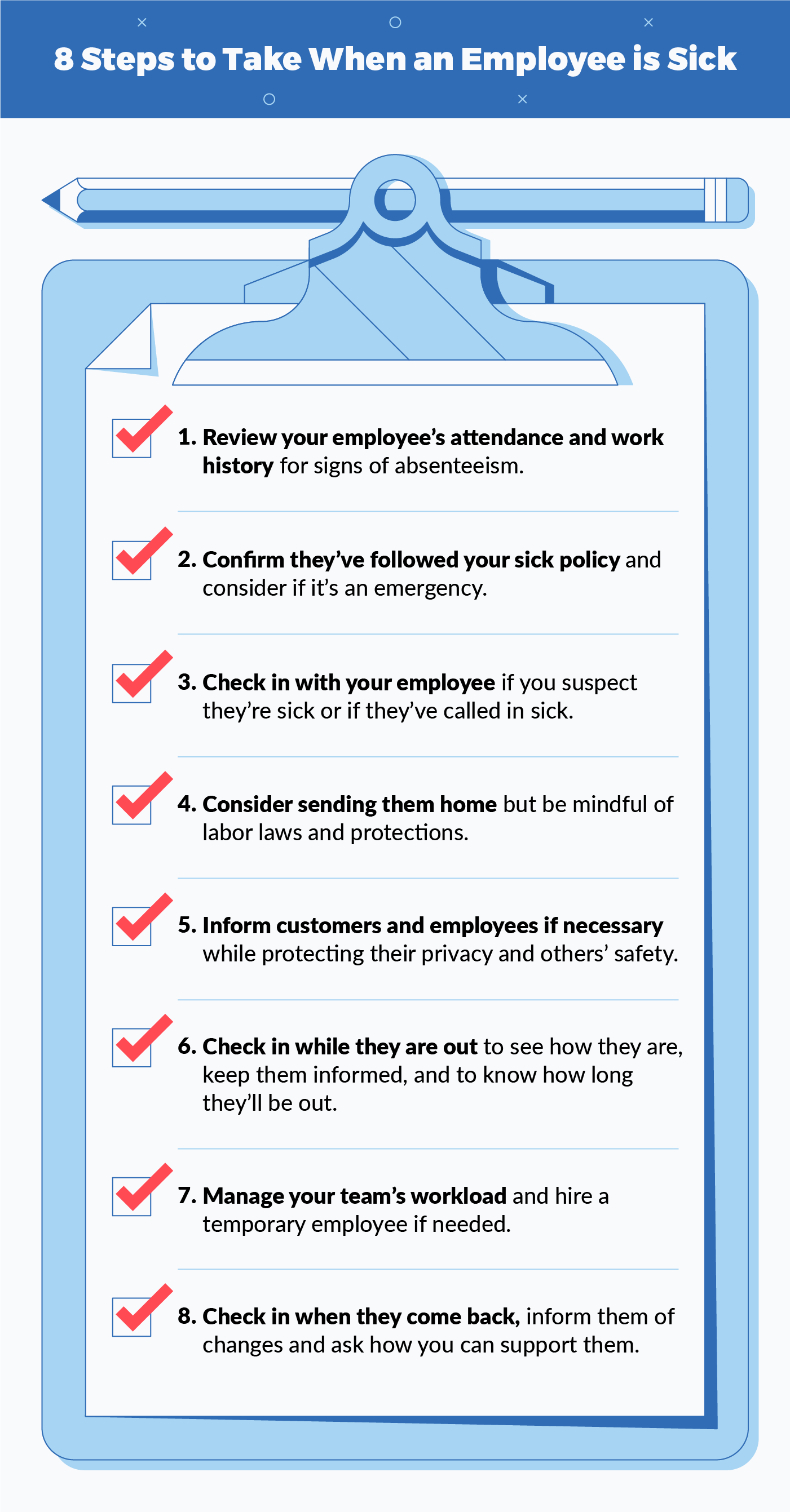 Graphic by J. W. Surely Bonds.
___________
Jessica Santos is a content marketing specialist with a background in creating content for a variety of topics including personal finance, business operations and cybersecurity. When she's not working on her next post, you can find her catching up on her favorite shows and podcasts.